SEACW Project

ICT-PSP

SOCIAL ECOSYSTEM FOR ANTI-AGING, CAPACITATION AND WELLBEING
Consortium :
1 - ALIAD CONOCIMIENTO Y SERVICIO SL Áliad Spain
2 GRUPPO SIGLA SRL SIGLA Italy
3 FUNDACION UNIVERSITARIA BALMES UVIC Spain
4 E-SENIORS: INITIATION DES SENIORS AUX NTIC ASSOCIATION ESE France
5 EXOR Group Ltd EXOR Malta
6 UNIVERSIDAD CARLOS III DE MADRID UC3M Spain
7 INSTITUTE OF NEUROBIOLOGY - BULGARIAN ACADEMY OF
SCIENCES NIB Bulgaria
8 UNIVERSITE DE TECHNOLOGIE DE TROYES UTT France
9 EDUCATION ET FORMATION TOUT AU LONGDE LA VIE GIP EFTLV GIP EFTLV France
The project objective is to create an Ecosystem for training, informing and giving awareness and providing tools for ICT and active and healthy aging. It intends to become an interactive meeting point for social inclusion agents, based on Internet and so accesible all over the world.
It combines proved technologies, that do not need further research, but it is unique and innovator as a whole.
Also, this project is intended to other two groups: elderly and general population.
The platform is based on open technologies, flexible, and sustainable, and will include both training and tools to implement the knowledge acquired.
The contents will provide: training, information and tools on digital literacy, information society, health promotion and active and healthy ageing.
Tools will be adapted to elderly (interfaces, SmartTV, etc.) and will enable participants and visitors to immediately apply the knowledge and at the same time to get motivation to acquire them.
Working plan is organized in WP´s, each of it leaded by a partner. The consortium is formed by ten partners of six countries.
All of them  specialized in ICT, health and active and healthy ageing.
The project includes two studies (state of the art and impact) and an implementation in 15 regions and 15.000 participants.
The EcoSystem will also promote business on ICT and ageing, provided that some participants are SMEs and ageing of society in Europe will open many business opportunities in this field.*
<![if !vml]>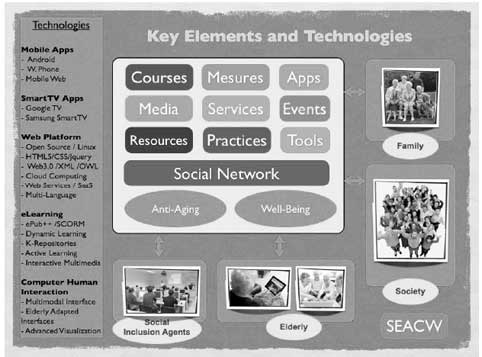 <![endif]>