STIMULATE
AAL European  project
| | |
| --- | --- |
| | Stimulate - Sustainable e-mobility services for Elderly People |
A short summary description of the overall idea and implementation of the proposal in relation to AAL technology and the end-user(s) :
Current information and communication technologies allow development of new ad-hoc services tailored to the specific profile of the customers, especially in the travel domain. However, access to them is subject to a reasonable acceptance of the underlying technologies. The "STIMULATE" project aims at bridging this gap by facilitating the mobility and independent travelling capabilities of senior people aged mostly from the age of 55 through using fully adapted Information and Communication Technologies (ICT). In particular, "easy to use" and "à la carte" assisted travel planning will be provided to seniors via TV and PC terminals, as well as itineraries optimization and local assistance via mobile phones when "on the move".
To address the travel needs of seniors and to build our proposal, we selected and studied 8 different projects or products in relationship to ambient assisted living and also to the particular domains of the travelling and transportation. These projects are: Victoria's Tender Care (US), Care-to-go (US), MARIA, CARLINK, WiSafeCar, iTour, WiseTrip, and Roadscholar. The main characteristics of these projects include: travel planning, shopping, care assistance, navigation/GPS and usability. This exploratory study determined the following statements:
•    While some elderly travel companions exist, only a few are dedicated to daily travels and those require human assistance (Victoria's Tender Care and Care-To-Go).
•    The IT projects are centered on public transportation assistance, and propose services linked to multimodal transportation of persons and assistance during their travel (CARLINK, WiSafeCar, iTour and WiseTrip). However, these projects are not focused on elderly needs.
•    In the context of assistance during travel for the elderly (taking into account public transportation), only MARIA project shows some common features with STIMULATE proposal: MARIA (Mobile Assistance for Barrier Free Mobility in Public Transportation) aims at developing a mobile service for continuous assistance with the purpose of barrier-free usage of public transportation. However, as is discussed in more detail below, STIMULATE, provides a complete platform to plan travels and execution functions, associated with personalized assistance dedicated to senior citizens.
<![if !vml]>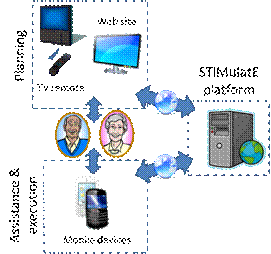 <![endif]>Using a user-centered design methodology, STIMULATE will enable seniors to specify their assistance needs, to extensively plan a trip, to optimize the transport means and itineraries, to secure advice, to be provided with personal assistance while on the move, as well as to secure local shopping recommendations and assistance. Advanced user communication technologies will be used for interactions, namely adapted graphical representations and navigation using common place terminals (TV, PC, mobile phones), as well as multimodal natural / seamless expression. Advanced knowledge based GIS technologies will be used for processing and personalizing seniors' travel and shopping requests, optimizing transport itineraries, providing travel assistance, securing health care support, and enacting the overall execution of the planned travel and shopping. For ease of use all the services offered by the "STIMULATE" platform will be accessible via web browsing, be it for TV sets through the use of the ETSI approved HbbTV standard, or for PC and mobile phones through the use of the W3C approved HTML5 standard.
Our platform will be extensible and sustainable through a service-oriented architecture implementation. At the interaction level, we propose an innovative combination of TV and voice interaction using Smart phones. A short time-to-market timeline will be made possible using an innovative combination of existing proven components.
Research on European statistics shows that the use of Internet by people aged between 55 and 64 has reached 60% in 2010 and 30% for people aged between 65 and 74. Also mobile phone penetration has reached 100% of older people, of which 60% are internet enabled. Similarly TV penetration is 100% and Internet connected TVs are expected to reach 1/3 of the households in the coming next three years. Given these statistics and the proposed easy-to-use design of STIMULATE, the service should be embraced by the elderly population and facilitate their freedom, activity and choice.
An example scenario
The targeted STIMULATE platform will be validated with the scenario below, demonstrating and evaluating the travel support provided to elderly people. This use case scenario concentrates on the way to increasing their mobility, to secure their access to the relevant assistance services, and finally to enhance their quality of life. The scenario could be summarized as follows:
•    Seniors make use the most suited terminal to plan their travel: TV or PC depending on their level of familiarization & technology awareness. Seniors are provided with an adapted graphical user interface and navigation mode based on their individual profiles. For instance text and pictures will be larger with relevant colors if they have some visual impairment, vocal explanations may be enacted where needed, multimedia / video illustrations may be provided, etc.
•    The senior may either select to travel alone or join a small group of senior citizens travelling together.
•    Through the use of an "adapted multimodal interface", the seniors express their personal assistance requirements (any mobility, impairment, medical treatment, diet needs), select their desired travel destinations, and specify their travel interests. Based on the "seniors expressed" and "system induced" individual profiles, the STIMULATE platform will propose on a geographical map, those services most adapted to seniors travel interests and assistance needs. The seniors may then build their own trip, by specifying from the suggested services, locality by locality, the ones they would like to reserve.
•    The STIMULATE platform then drafts an adapted travel with optimized itineraries, visits timing, assistance agenda and locally available support services. The targeted travel transport is bus / mini-van / personal car, but the concept can be extended to other transport means. The planned reservations are processed by the travel specialists offering the services. The travel services cover cultural and leisure activities, local thematic shopping (artifact, handcraft, gastronomy, local products, etc.), lodging and transport. The assistance services address mobility compliance (elevator, ramps, etc.), diets compliance for hotels / restaurants (diabetic, allergies, bio-food, low calorie meals, etc.), medicinal / treatments reminders, availability of local health professionals where and when needed, etc.
•    While "on the move", ongoing assistance will be provided and the execution of the travel steps will be enacted through the use of a "GPS enabled mobile phone". The STIMULATE system will dynamically take into account possible unexpected transport events like traffic jams, road works or road deviation and proposes if necessary a new itinerary according to the previously specified needs. Moreover the system will assist the travelers, as the needs appear, in locating and contacting the relevant professionals (doctor, pharmacist, nutritionist, physiotherapist, etc.) The system will also enact any temporal / spatial assistance agenda, such as a reminder to take a medicine, to be aware of diet suggestions, to visit a local doctor, etc.
•    The seniors and their family, friends or personal doctor may stay in touch while travelling, using the STIMULATE platform geo-localized services enabling to follow the travelling steps and to exchange any relevant information, from simple greetings to take pictures, as well as fitness and health related issues with the personal practitioners of the travelling seniors.