Feedback about English conversation workshop
ESENIORS Association
2011-2013
Index
Reports about the Thursday workshops at Daviel Youth Center Paris 13ème. 2
Subjects or items for discussion. 7
Satisfaction survey and feedback from students. 17
The English conversation group held weekly at Café Daviel from 2 - 4 p m is based on the theory that adults learn English faster in a low pressure environment that is convivial and fun.
Each week we either start or finish with a bit of nonsense in the form of jokes or sayings or a review of some publication or telling about our vacations or reviewing the new words our scrabble game presented.
If the coffee machine is working and the group is small we purchase our own refreshments, if the group is larger we make coffee and tea and pass the cookies.
Participants change each week with a few regulars and others who come when they can work around jobs and travel to help family.
This is often the case with seniors.
We have developed a mailing list of fourteen plus 6 staff who help from time to time - four being native English speakers.  Total 20
The group is animated by a native speaker (American) who has been present all but one time.
Average attendance is about six people although the group has grown to as many as nine at times.
We have tried to incorporate technology but the participants did not like computer games and sports and outside speakers.
Our attempt to do conversation around film has not materialized due to technical problems at the site.
I feel that the group has bonded and that a solid 7 - 10 people are committed to continuing the process.
We now have refreshments and basic dictionaries and scrabble boards housed at Daviel so it is less difficult to set and clean up.
We meet in an open space which seems to attract interest of others who use the center.
In order to acknowledge different levels of competency in English we have two scrabble games going, one
at a beginners level with extra staff helping the weakest people playing. We do this if we have at least six people
present. We allow newcomers to play in French for at least three times if they want to. Almost everyone has
chosen to play in English after the first time. We lost one participant whose mother language was Spanish and
who was weak in both French and English although we told her she could pay in Spanish at first.
Example of weekly reminder :
Bonjour !
On vous attend ce jeudi pour une partie de Scrabble + de la conversation anglaise au :
Centre d'Animation Daviel
"Café Associatif Seniors"
    24, rue Daviel 75013 PARIS
 (métro Glacière - ligne 6)
Si possible, envoyez-nous un mail pour nous prévenir de votre participation au :
markkonick@gmail.com
bettyabugheida@gmail.com
Merci, et venez nombreux (bring your friends) !
Mark, Betty,Palden,Denis et Laurence
P.S. On aura les dictionnaires pour les "tricheurs" !
Workshop on  04/10/2011 ***********************************************
We had three very pleasant ladies joining me and later on Mark
francoise.kammoun@gmail.com
mariekazich@gmail.com
eabydui@voila.fr
We looked at funny things printed out  from the web, i.e. senior tee shirts, and a few jokes
Mostly we used a book of American sayings entitled Grandma Always Said to see if they worked in French
I thought Jean Michel might want to incorporate some of them in his heritage and memory project
work more and talk less   discuter moins, travailler plus
elbow grease      huile de coudre  or huile des bras
a woman's work is never done     une femme fait trois journées en une
Francoise is from Poitiers
Marie is from Marseilles and Aix en Provence and remembers the Mairie burning
isabelle is from Lyon and remembers bombs and the children loving it
these are of course world war II memories
15/10/2011 ***************************************************************
The Paris project meets at a community center in the 13th arrondisement of Paris - rue Daviel
Sessions are scheduled between 14:00 and 16:00 on Thursdays
Six sessions have been held, usually every week
to date seven active participants have joined us
In total four of the Paris staff have participated, 3 volunteers and one paid staff
We have utilized jokes and funny senior tee shirts found on the web, grandmother sayings in
English searching for their equivalents in French, sharing birthplaces and  determining who
might have memories from World War II for our heritage project, and scrabble
Scrabble is the favorite.  We play it in both English and French but discuss words only in English
When we have more than four people we start a second game.  If the café area is noisy we move
to the art gallery.
Sometimes we share snacks or purchase them from the center machine having decided that organizing
our own café is probably not necessary or worth the effort of cleaning up.  We may change this.
The coordinator has asked to hold off asking participants to purchase tickets at five euros each until
the group has solidified
Of the seven participants in addition to four staff and volunteers and three onlookers
one has returned 3 of the six times
2 have returned twice
2 have been there only one time
The volunteer coordinator has been there each time for consistency
Last session the three participants expressed concern that we would not be meeting again for three
weeks because of vacation and staff involvement with another project
They directly asked to continue with scrabble rather than do computer memory or computer generated
exercise programs
A professional photographer asked permission to photograph a scrabble game
****************************08/12/11
we were playing scrabble : 3 goups of 2 partners. The animator was JMD and I assist him with pleasure.
I have been the lucky man who won the party with my partner.

Denis AUBIER
******************* december 15, 2011*
the english conversation group met at betty abugheida's home because she is confined due to foot surgery
7 people were present including three students, the program director, the animator and another english speaking assistant, and a frenchman who will be participating in another EU program in strassbourg in january
the students brought cider and wine and home made apple tart, the hostess provided tea and coffee and special items from the cameroon and the czech republic and the director brought home made cookies from the alsace
we conversed about our travels to sudan, egypt, and elsewhere and had a good time
the director presented us with a new scrabble game purchased at an english bookshop in paris
the group will reconvene the second thursday of january at rue daviel from two to four p m
betty abugheida
december 15, 2011
january 12 2012
first session for this trimester
daviel 14 – 16 h
total attendance - 7
5 students and 2 animators (Dennis A and Betty A)
2 new students and 2 regrets
manuelle manuelle.derhicouque@gmail.com
Marie France Moussouri mariefmoussa@orange.fr
played scrabble, used dictionaries, discussed preference for next time
group wants to see a short film and discuss in english
I asked secretary to speak with Mirielle friday to reserve the room with a screen recommended by dennis
good spirit and conversation
betty
who can help with selection of film and technology for presenting and/or direct the discussion
Diana? Jean Michel, Olivier? Didier January 19
*******************************
daviel 2 4 pm january 19 2012
three former students and one new one gathered
Dennis, mark who arrived late, palden, and I making a total of 8
we tried to get the film working but to no avail
Olivier passed later and said he would purchase a new connecter and help next time
we will bring dvd's that can be shown as back ups
while waiting we discussed stories in the new newsweek magazine
with little prospect of a film, we set up two tables of scrabble
Palden was especially helpful with the new person whose english is weaker than the others
He is very patient.
new slimanelarbi@free.fr said he would come back again
****************************************************
report english conversation TANT cafe daviel
26 January 2012
six people attended
3 students and 3 staff (betty, denis, palden)
I tried to start a conversation about the program as outlined by francois holland but no one interested or uninformed
denis tried to bring up the film with no success
played scrabble at a beginners level since all attending were rather weak in english but about same level
two people - denis and slimane - helped other people
palden and betty will bring dvd's next time to be sure the film project works
new student - martine.valette.204@free.fr - her husband sent her - he is in one of the e senior classes
******************************************
Thursday 2 February 2012
9 participants - 5 students and 4 staff (denis, mark, palden and betty
one new student coming from one of our classes - laurence de kermadec - l.dekermadec@free.fr
To be added to our mailing list please
We had trouble with the film showing once again but we did a few quotes from
"Age doesn't matter unless you're a cheese" and set up two games of scrabble
The hot drink machine was out of order so we made coffee and tea and dug into the special cookies.
****************************************************
english conversation Thursday February 9  2012
8 in attendance  five students and three staff
played two games of scrabble
made coffee and tea and served cookies
compared and discussed list of new words learned by each group
one new student - esmerelda reyes  smerelda_dolphin@yahoo.com
she is from columbia and knows mark and teaches spanish to one of the participants
staff present mark, denis and betty
**************************************************************
February 16th
Three participants and two staff watched clips of well known movies in the computer room
Denis brought them up on the computer and projected them onto a larger screen
Although this was an interesting deviation, it did not lead to much conversation
The last 40 minutes we went into the café area and purchased drinks and ate cookies and chocolate brought by one of the participants
We looked at some photos and text from the fifties but the word were a bit difficult for the group
We agreed that there would be no class for three weeks - during the school holidays
Some picture of Betty and Mark
<![if !vml]>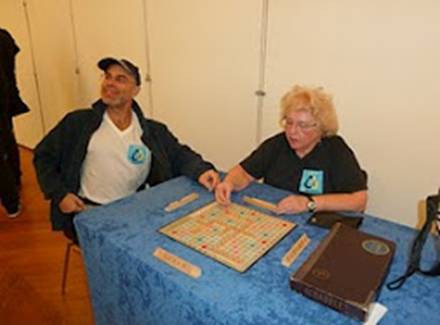 <![endif]>
<![if !vml]>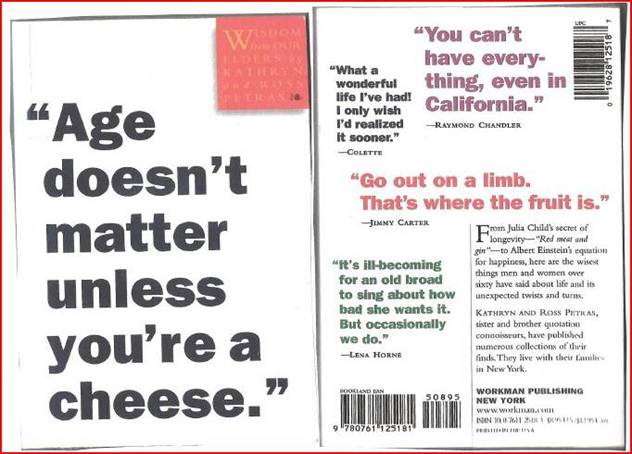 <![endif]>
<![if !vml]>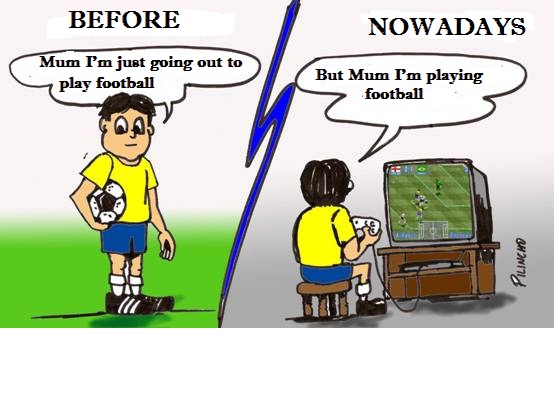 <![endif]>
<![if !vml]>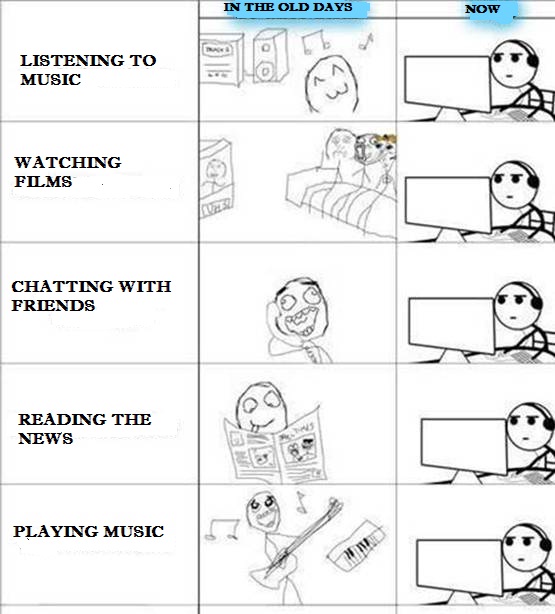 <![endif]>
<![if !vml]>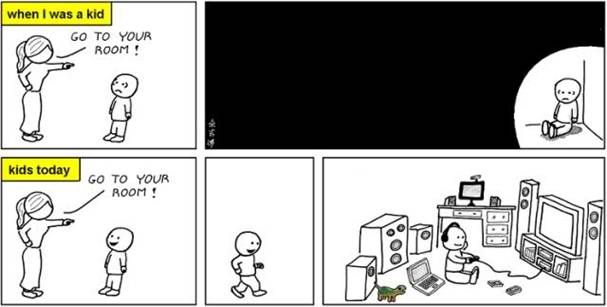 <![endif]>
<![if !vml]>
<![endif]>
<![if !vml]>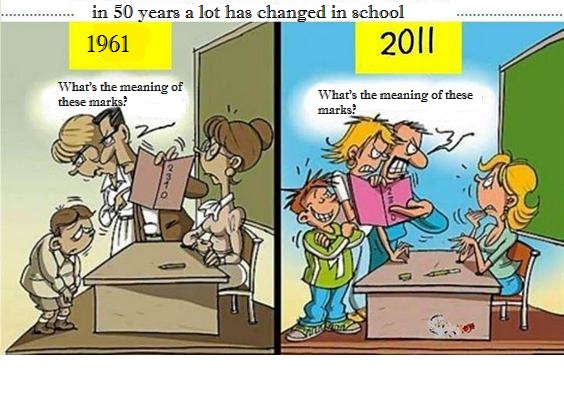 <![endif]>
<![if !vml]>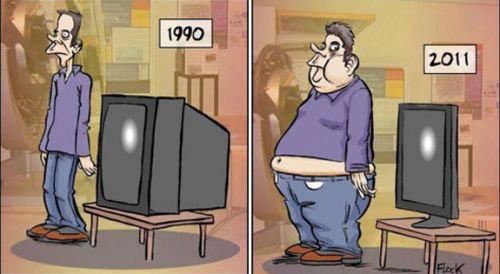 <![endif]>
<![if !vml]>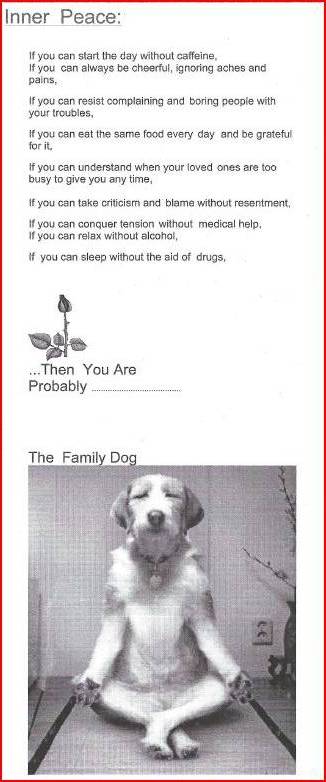 <![endif]>
<![if !vml]>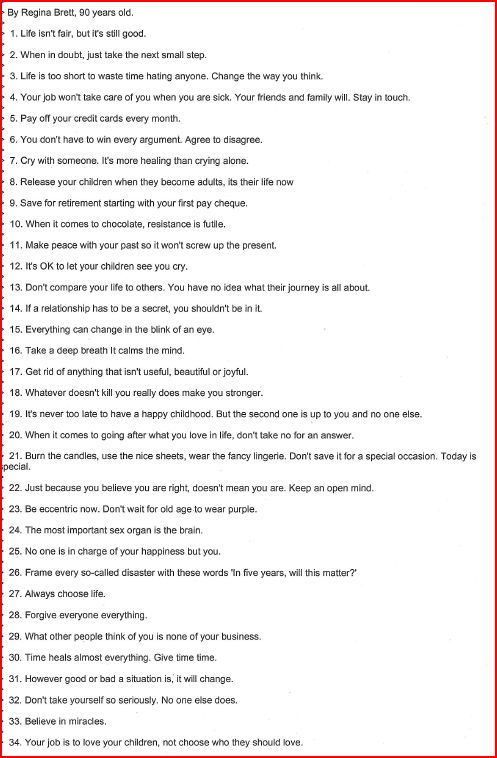 <![endif]>
<![if !vml]>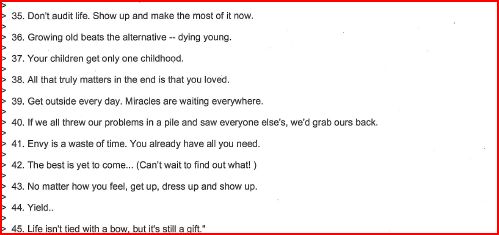 <![endif]>
<![if !vml]>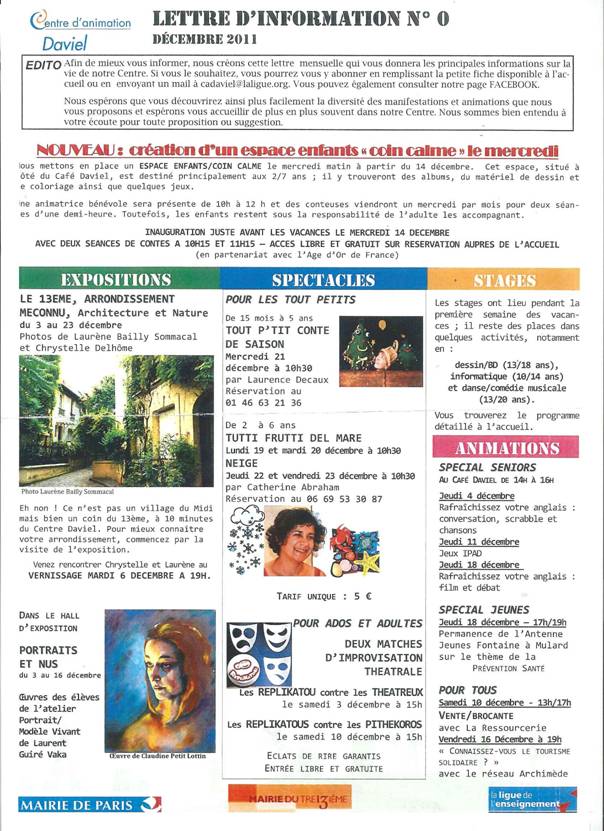 <![endif]>
<![if !vml]>

<![endif]>
<![if !vml]><![endif]>

Café DAVIEL

Café associatif pour seniors

<![if !vml]><![endif]>
L'association E-Seniors
propose tous les jeudis de 14h à 16h
au Centre d'animation Daviel
24, rue Daviel 75013 Paris
| | |
| --- | --- |
| 29/09/11 | Conversation anglaise  avec Betty |
| 06/10 | Discussion sur le thème des aidants familiaux à l'occasion de la 1ère journée nationale, en présence de professionnels / Philippe |
| 13/10 | Pratique de la conversation anglaise autour du  scrabble / Betty |
| 20/10 | Jeux numériques de stimulation cognitive et physique  / Didier |
| 27/10 |                   *****  Vacances Toussaint   ***** |
| 03/11 | Pratique de la conversation anglaise en chantant  /  Betty et Jean-Michel |
| 10/11 | Jeux numériques de stimulation cognitive et physique  (KINECT)    avec Jean-Michel |
| 17/11 | Pratique de la conversation anglaise autour de sketchs comiques (extraits de films) avec Betty et Didier |
| 24/11 |  Jeux numériques de stimulation cognitive et physique  ( WII et jeux LLM sur écran tactile)  avec Didier |
| 01/12 |  Pratique de la conversation anglaise autour du  scrabble / Betty |
| 08/12 | Jeux de stimulation cognitive et physique  /   Jean-Michel |
| 15/12 | Conversation anglaise autour de sketchs comiques (extraits de films) avec Betty et Didier |
Renseignements : 
01 45 89 05 99
<![if !vml]>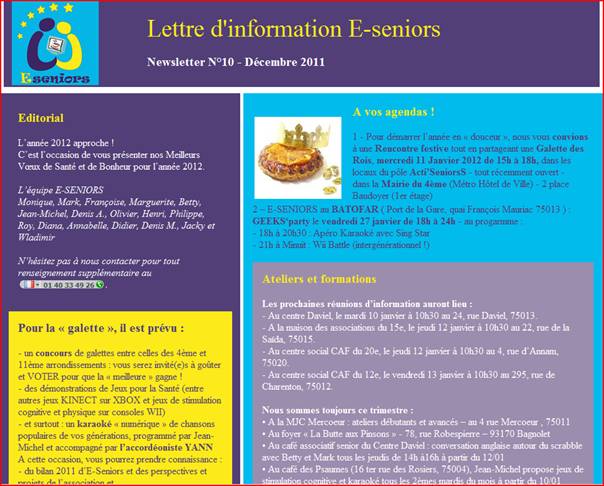 <![endif]>
In English and in French
https://docs.google.com/spreadsheet/viewform?formkey=dHd0ZXh4RDJBQ0NGZTM4TzVObUhzdFE6MQ#gid=0
https://docs.google.com/spreadsheet/viewform?formkey=dGRJQnRtSE1hZEVhd000akhvQnV0MHc6MQ#gid=0
ExCHANGE N° 1 :
| | | |
| --- | --- | --- |
| Martine Grayden martine.grayden@gmail.com to me | 11/11/11 | |
Not the tinny less !!! I simply looked up on the "Wordreference" Website and I could not find it....Thanks Mark !!!
- Hide quoted text -
Martine On Fri, Nov 11, 2011 at , Mark Konick <markkonick@gmail.com> wrote:
Um, are you sure? <![if !vml]>

<![endif]>
http://www.merriam-webster.com/dictionary/um
http://www.scrabblefinder.com/word/um/
On Fri, Nov 11, 2011 at 9:46 AM, Martine Grayden <martine.gra  (at) gmail.com> wrote:
...and I am afraid "um" does not exist !!!

Martine
ExCHANGE N° 2 :
| | | |
| --- | --- | --- |
| Mark Konick to Gigi, bettyabugheida, bcc: Françoise, bcc: Monique | show details 11/11/11 | |
Yes, you could have won! Hopefully, next time we will come with the official Scrabble dictionary! Best, Mark
- Hide quoted text -
On Fri, Nov 11, 2011 at 9:41 AM, Gigi J <jojosian (at) hotmail.com> wrote:
Many thanks Mark. I'll add it in my personal dictionary.
Too bad it's too late = Il could have won ...
---
Date: Fri, 11 Nov 2011 00:19:53 +0100
Subject: Scrabble Word Finder
From: markkonick@gmail.com
To: markkonick@gmail.com; bettyabugheida@gmail.com; dianalsmith@wanadoo.fr; vj.damianthe@gmail.com

http://www.scrabblefinder.com/
Josiane: "quin" is a word!
http://www.scrabblefinder.com/word/quin/
*****************************************
HP
HP Compaq nx6110 Notebook PC - Téléchargement de pilotes et de logiciels - HP Business Support Center
HP Compaq nx6110 Notebook PC - Pilote Ethernet 10/100 Broadcom BCM440x pour Microsoft Windows XP - HP Business Support Center
Video
Words
Scrabble
News
Other
http://www.voanews.com/learningenglish/home/
http://www.vosmeilleuresidees.yahoo.fr/pour-pratiquer-anglais-je-me-rends-a-des-soirees-speed-english/
http://www.audiobookscorner.com/list.aspx?catId=5269
http://www.speakalanguage.com/free-pimsleur-english-for-french-speakers-mp3-download.html