CASES Final meeting Bishop's castle
03/06/2014 – 04/06/2014
Attendees: all partners represented except Iceland, Switzerland and Poland.
First day: 3rd June 2014
<![if !vml]>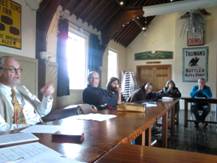 <![endif]>
Project managers from all partners have listed the topics to be discussed during these 2 days.
Best practices:
Portugal will gather and verify all best practices forms (1 page text) of all and send it to UK for proof reading. Deadline 12 June 2014
Difficulties: we don't have the contribution from Spain, Iceland, Czech  Republic.
Regarding the E book's translation:
Each partner ask to its NA about the relevance of such a translation.
Website :
We have decided not to list every best practice on the website of the whole project. Only a link sending the visitor to the subgroup website will be implemented.
Final report:
UK makes the common part and the common part EST by the beginning of August. Partners' contributions are expected. A major contribution will be around social entrepreneurship.
<![if !vml]>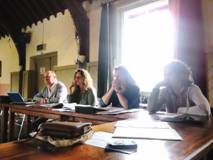 <![endif]>
The whole group was divided in smaller groups. Each group was focusing of an aspect of the project to dig in the local situation. Feedback regarding our findings was done in front of everyone.
The consortium was taken to an identified spot between Wales and England which is an important aspect of cultural life in the area.
Second day: 4th June 2014
The second was dedicated to social enterprises and visiting good example in the region.
We have visited a railway run by volunteers: Llanfair Caereinion. We have taken a train working thanks to steam. It was identical than the one from the beginning of the century. After that, we had the opportunity to visit the station with one of the volunteer.
<![if !vml]>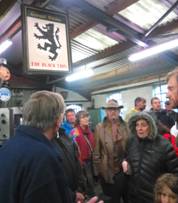 <![endif]>
We have visited a cooperative garden. They offer organic vegetable and trainings in the area.
Welcomed by the mayor of Newton in a king of cooperative bank. The principle is to let he money circulate locally. Loans provided are direct savings of the customers. It was interesting even though the mayor specified that without public subventions, an initiative like this one couldn't be possible.
Robert Owen's grave in Newton

Presentation of our work in front of the mayor of Bishop Castle