THE PROJECT
NACODEAL´s main objective is to generate a portable device in which an Augmented Reality module will be integrated and will create friendly guides, so that its users will be capable of performing their daily activities and access to online services that are relevant for them.
<![if !vml]>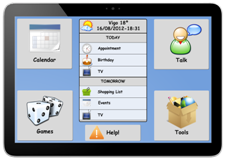 <![endif]>
<![if !vml]>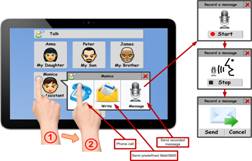 <![endif]>
Data:
-Starting Date: October 2011
-Duration: 30 months
- NACODEAL is a project co-funded by AAL Joint Programme, Call 3 2010
- Placing on the market: 2014
STATE OF THE ART OF THE PROJECT
The facilities offered by modern technology are many, however, elderly people is often unable to enjoy them fully. This phenomenon is due to factors such as lack of familiarity, the large amount of information available, coupled with natural problems that come with the advanced ages like senility and memory loss. The NACODEAL project aims to offer better autonomy and life quality during their daily activities, taking advantage of state-of-art technology.
Special designed Elder User Interface & AugMENTED REALITY
After thoughtful research performed in France and Italy, involving experts in the field, interviewing caretakers and volunteers, it was possible to determine aspects like the needed features, appearance, usability and positive and negative impacts in the user life that the device, which will be a tablet, may bring to their life.
NACODEAL within its system integrates the technology of Augmented Reality (AR) which, through a portable mini-projector lets you reproduce - on the walls of the elderly house or in the residential facility that host them - images and information that normally human perception is not able to understand.
<![if !vml]>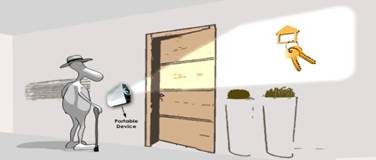 <![endif]>