PARTNERSHIP MEETING IN BEJA, PORTUGAL
Minutes of our third meeting
The third meeting took place at  Beja, Portugal 4-7/7/2013 and was  also successful as the previous ones  at Italy and U.K.
We presented the videos of our  previous meetings and an overall  presentation of our project.
There was a creative debate  regarding the software of the game.
There was a common agreement  about the graphic and content of  our multilingual website.
We set deadlines for finalizing the  poster and translating all questions  respecting the common agreed  game's rules.
We need to organize also our  evaluation tools.
An important meeting was held for  promoting our project to local  community, when the Mayor of  Beja was with us.
An Intercultural meeting was also  essential as part of our "Melting  the Iceberg" process.
<![if !vml]>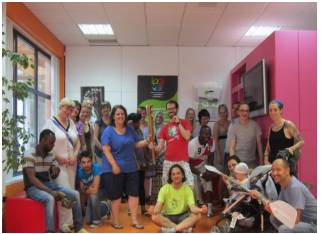 <![endif]>
We, the representatives of our eleven partners, during  the third meeting at Beja, July 2013, commit ourselves  for the implementation of the following actions:
1) Support our multilingual internet pages.
Website:  www.projectegame.eu
2) Disseminate our results using the power of social
media.
Facebook:  http://www.facebook.com/egame.egame?fref=ts
Twitter:  https://twitter.com/ProjetEgame
LinkedIn:  http://www.linkedin.com/profile/view?id=211727910&locale=fr_FR&trk=tyah
3) Design gadgets, t-shirts, videos and promote poster  through topic/ Project events.
4) Translate all questions in all participants' languages.
5) Develop the main tool of the current project, an  animated game in all participants' languages.
6) Dissemination and Exploitation of Results in Local  and National Level (DEOR Strategy)
At the next future meeting in January 2014 that will take  place at Prague, we will focus on the software of the  game.