PROGRAMME PLAN OF ACTIVITIES – LONDON MEETING
Week beginning 16th – 20th May 2011
Host institution – BRITISH FILM INSTITUTE, BFI SOUTHBANK, LONDON SE1 8XT
<![if !vml]>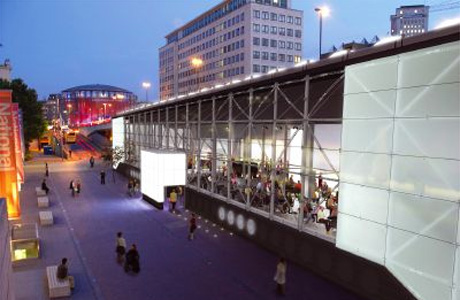 <![endif]>
Participants
| | | | |
| --- | --- | --- | --- |
| INSTITUTION COUNTRY | TITLE | NAME ATTENDING | POSITION |
| GREECE | Mrs | Zacharo Papdopoulou | Coordinator |
| | Mr | Nikos Fotiadis | Project Assistant |
| | Mr | Andreas Chantzopoulos | Trainee |
| | Mrs | Maria Pergioudaki | Project Assistant |
| | Mr | Spyros Doukas | Trainee |
| | Mr | Kampas Dimitrios | Trainee |
| | Mr | Karagiannis Antonios | Trainee |
| | Mr | Aspiotis Ioannis | Trainee |
| | Mr | Poseidonos Konstantinos | Trainee |
| | Mr | Kazantzidis Pavlos | Trainee |
| | Mr | Spanos Polichronis | Trainee |
| | Mrs | Evangelou Alexandra | Trainee |
| | Mrs | Pateraki Eleni | Trainee |
| | Mrs | Vavoura Maria | Trainee |
| | Mrs | Psoma Eleni | Trainee |
| | Mr | Vlachos Dimitrios | Trainee |
| | Mrs | Kalidaki Maria | Trainee |
| TURKEY | Mr | Cem Ozbay | Coordinator |
| | Mr | Hakan Mutaf | Head of Institution |
| | Mr | Ahmet Azman | Learner |
| | Mr | Ali Dokmec | Learner |
| | Mr | Ahmet Karahan | Learner |
| | Mr | Asim Daban | Learner |
| | Mr | Halit Gulgen | Learner |
| | Mr | Mehmet G.D. Soglu | Learner |
| | Mr | Serdar Ozboyaci | Learner |
| FINLAND | Ms | Helena Vuojakoski | Coordinator |
| | Mr | Jani Kinnunen | Learner |
| | Mrs | Elli Rantanen | Learner |
| | Mrs | Eine Turunen | Learner |
| | Mrs | Paivi Pasanen | Learner |
| | Mrs | Seija Lamberg | Learner |
| | Mr | Unto Kauppinen | Learner |
| | Mr | Arto Utriainen | Learner |
| | Mr | Raimo Frilander | Learner |
| Czech Rep. | Mrs | Lucie Waldrova | Coordinator |
| | Mr | Adam Walder | Trainer |
| | Mrs | Hana Hubinkova | Learner |
| | Mrs | Dagmar Hricova | Learner |
| LITHUANIA | Mrs | Rima Leimontien | Coordinator |
| | Mrs | Rasa Bertulien | Trainer |
| FRANCE | Mr | Jean-Michel Damianthe | Trainer |
| | Mr | Didier Chalay | Trainer |
| | Ms | Dorota Kabza | Project Manager |
| UK | Ms | Joanna van der Meer | Project Manager |
PROGRAMME OF ACTIVITIES
Day and Date

Time

Activity

Monday,

16TH May

Arrival day

(optional - meet at Pizza Express opposite BFI 8.00pm Monday evening)

Tuesday,

17th May

10.00 – 10.10

10.10 – 11.10

11.10 – 11.30

11.35 – 12.15

12.15 – 13.30

13.30 – 14.30

14.30 – 17.15

17.15 – 20.00

Breakfast to be taken at hotel or any other arrangement

Opening of the meeting at BFI Southbank – Studio cinema – welcome to London

Project meeting: Updates on activities in partner institutes since the meeting in Pakruojis

Coffee/refreshments – chance to meet partners socially - activity

About the BFI - Introduction to Reel Histories BBC / BFI project (historical films) by BFI curator

Film-making learning session commences – animation using digital cameras (no need for software)

Lunch

Continue with animation and moving on to editing footage using movie maker PC programme

<![if !supportLists]>· <![endif]>Please note: coffee/refreshments available throughout afternoon

Trip on river bus to Greenwich – walk around this historical part of London.  We will be having fish and chips for supper there

(return to London via Docklands light railway)

Wednesday,

18th May

09.30 – 11.30

11.30 – 11.45

11.45 – 13.30

13.30 – 14.30

14.30 – 16.15

16.15 – 17.00

17.00 – 17.30

17.30 – 22.00

Breakfast at hotel

Continue with editing  

Coffee / refreshments

Group splits into 2 –

Group A - 'after effects' – special effects programme using Mac computers

Group B – easy 3D animation film-making

Lunch

Group A and Group B swap

<![if !supportLists]>· <![endif]>Please note: coffee/refreshments available throughout afternoon

Groups come together to share their learning experience – dissemination of the training

Going forward – planning future meeting date

Walk down Southbank, over Westminster Bridge – Houses of Parliament, Big Ben, up to Trafalgar Square.  Buffet style dinner at St. Martin in the Field's Crypt (next to Trafalgar Square) – Live music and Salsa Dance Class.

Thursday,

19th May

09.45 – 11.15

11.30 – 11.45

11.45 – 13.00

13.00 – 14.00

14.00 – 16.00

16.15 – 17.00

17.00 – 17.45

Final day

Breakfast at your hotel

Meet at Covent Garden – shopping opportunity (you will be met by my assistants who will walk you over the bridge to the BFI once you have finished shopping)

BFI - Coffee/refreshments

Talk and films by youth film group

Buffet/picnic lunch

Walk to Tate Modern Art Gallery along Southbank

Tour of Tate Modern by curator

Afternoon Tea in the Roof Top Restaurant

Certificate Ceremony at Tate Modern/

Close of visit

Optional evening – visit to the theatre or boat trip on the Thames

More details, costs sent if you would like to meet in the evening for further participation – please inform Joanna as soon as possible using the return form document (separate)

Friday,

20th May

Departure day
For reference:  PROJECT MEETING RESULTS FROM THE LAST MOBILITY
1. Updating the activities in partner institutions
Institutions had started to create the learning groups. There was discussion if some parts of the animation learning pack should be translated into the native languages of the institutes.
2.  Animation workshop
Seven animations were created under instruction of Joanna van der Meer from British Film Institute. There was a very enthusiastic atmosphere during the workshop.
3. Meeting in London
The meeting in London will be organized on 16th -20th May 2011 and decided to continue animation workshops there, mainly editing and different ways to create animations and software.
4.  Film circles
Each institute had prepared a short summary of the chosen film and explanation why one or another documentary or film is chosen and recommended by partner institution. The purpose of these film circles are to get acquainted with the culture,  traditions  and history of partnership countries.