NEVER TOO LATE FOR EUROPEAN SYNERGY

Grundtvig project 2013-07-10
Partners
Maltepe Kiz Teknik ve Meslek Lisesi TR-Turkey
DESMOS GR-Greece
Association E-SENIORS FR-France
INICIATIVAS DE PROYECTOS DE FORMACION ES-Spain
IZI Ltd trading as Easy School of Languages – Malta
D1 Summary
N2L84ES (Never too late for European Synergy)
Most adults are not aware of Life Long Learning (LLL). Our target audience is the large number of adults who have left school early or who have never had the opportunity to receive formal education (as in the case of many migrants, refugees, Travellers, marginalised people, and people with disabilities) and are "seniors or ageing population". Opportunities for Life Long Learning and especially for European Synergy should be facilitated. The core idea of the project is to teach adults critical analysis thus improving their quality of life and their life styles. All resources available to the project partners will be considered throughout the project in order to facilitate learning for the target group (TG). This step will be in conjunction with teaching spoken English so that adults can improve their self confidence. Cultural sensitivity of the TG will ensure a greater connection to the national citizenship platform through a European (E) multi dimensional platform. Finalizing the project it is expected to exhibit all the project outcomes [such as E-Learning Web Platform (E-LWP), Multilingual Users Guide (MUG), (E-LWP) Questionnaires, Online Visual Artistic Catalogue (OVAC), Multilingual Pocket Illustrated Glossary of Artistic Terminology (IMPIGAT), Documentary Film (DF) (consisting of 11 different Short Audio-Video (SAV)s) created by the adults) at a conference hall of a prison, in order to include the disadvantaged adults in prisons through LLL.. This way the project's final outcome will portray an increase in European consciousness achieved through a unique E Synergy. As a result the number of the adults who will present our catch phrase "N2L84ES!" will be detected as one of the performance criteria of our project.
D3 Project objectives and strategy
In addition to the following specific objectives of the Grundtvig programme (to respond to the educational challenge of an ageing population in Europe and to help provide adults with pathways to improve their knowledge and competence)
are the following concrete objectives (emphasizing the subjects/problem we intend to address):
1)To develop a creative approach to learning that enhances quality of life for adult target group (TG)s,
2)To discover & develop the target groups' inherent natural abilities and interests through art, ICT & English language and to use these skills for enterprise and commerce,
3)to develop creative project products (such as (E-LWP),(MUG),(E-LWPQ)s,(OVAC),(IMPIGAT),(DF)(consisting of 11 different (SAV)s),
3)To build confidence & self-esteem in the TG, 
4)To encourage the use of ICT for communication among all project participants in line with our goal of (ES),
5)To enable the TG to respond to challenges in society in an innovative & non-formal way,
6)To combine the use of art, English &ICT to enable learning by doing & actively participating,
7)To enhance personal relationships by breaking the stereotypical barriers that differentiate TG from others,
8)To make the TG prove themselves that it is N2L8 for LLL&especially 4 ES by creating innovative project outcomes,
9)To teach adults analysing & synthesizing their life styles in order to enhance the standards of their life quality,
10)To learn how to learn,
11)To use all various types of facilities available inside the curriculum of the partners through out the project for the aim of increasing creativity,
12)To use the advantage of cooperation with volunteers (if possible).
The objective of our project is to use a creative, pedagogical and didactic approach to learning which will incorporate the use of ICT with art, drama, music and language.  Each partner is skilled in these areas to enable easy access and learning for the target group. Strengthening participants self-confidence and promoting their personal fulfilment will be gained by helping them to develop social, civic and cultural competencies. The development of social media tools will enable participating countries to effectively communicate with each other by uploading blogs, photos, work logs etc. This will enhance the learning experience as well as further fulfilling our goal of ES.This is further developed by each TG actively participating in all aspects of the project from brainstorming to presenting the final products.
D4 Results and outcome
<![if !vml]>

<![endif]>
<![if !vml]>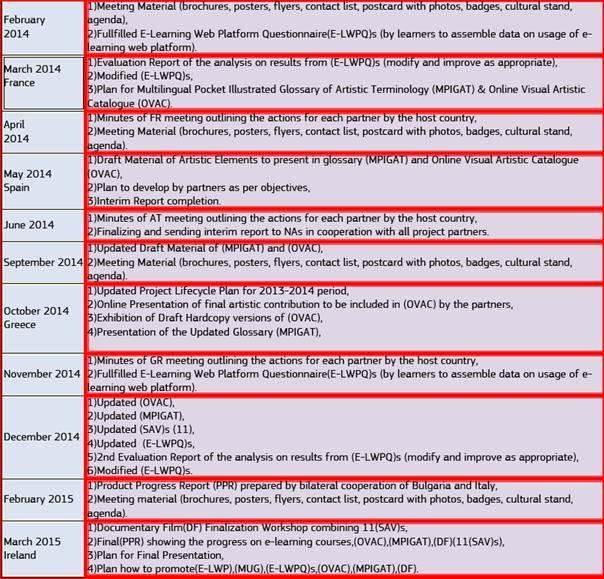 <![endif]>
<![if !vml]>

<![endif]>
<![if !vml]>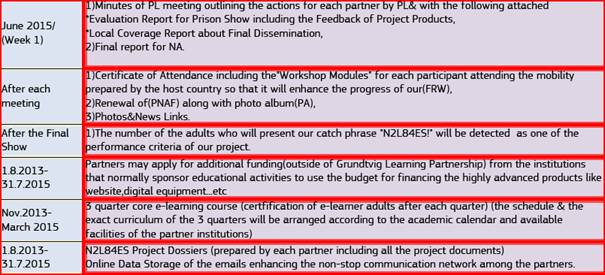 <![endif]>
Meetings
KO in Paris
Meeting in Turkey
Bilateral Meeting in Paris
Meeting in Malaga
Meeting in Thessaloniki March 2015
Meeting in Malta
A project-symbolic poem presentation by one of the French representatives of the E-Seniors Association, Paris (FR) at the 2nd Transnational Partner's Meeting in Maltepe, Istanbul (TR) of the Grundtvig Partnership Project, "Never Too Late For European Synergy" (N2L84ES), within the framework of the European Union's Lifelong Learning Program. For further information, please consult the official project website: http://sarges1966.wix.com/n3l8es. The poem recitation is based upon the following lines from "Morituri Salutamus: Poem for the Fiftieth Anniversary of the Class of 1825 in Bowdoin College"
(by Henry Wadsworth Longfellow):
[...] Ah, nothing is too late
Till the tired heart shall cease to palpitate.
[...] Something remains for us to do or dare;
Even the oldest tree some fruit may bear;
[...] For age is opportunity no less
Than youth itself, though in another dress,
And as the evening twilight fades away
The sky is filled with stars, invisible by day.

F Project implementation

But why, you ask me, should this tale be told
To men grown old, or who are growing old?
It is too late! Ah, nothing is too late
Till the tired heart shall cease to palpitate.
F1 Distribution of tasks
TR
Realizing procedure of the NAs for the application of the project
Management&control of the project using ICT tools such as internet/computer/Iphone/Ipad/external portable hard drives (within the bounds of possibility)
Design&implement plans to guarantee project success&quality
Accomplish its own activities as a project partner
Gather all partner contributions to build up final products
Ensuring the coordination among the partners of the project including activities,mobilities&products
ALL
1)Preparing Meeting Material,(PNAF) along with(PA)
2)Fullfilling (N2L84ES)
3)Outline of updated F.1.
4)Recording Plan of 4(SAV)s by each partners' contribution to produce the final(DF)
The scenario of the 4(SAV)s will be created among"haiku style of teaching English,short rhymes,short artistic piece of art/drama/creative writing/music,English-teaching with ICT-karaoke/-scrabble,local sounds,background music and project-symbolic poem recitation by the adult learners&staff enhancing Fun&Learn activities"
5)Preparing
*Minutes of meetings outlining the actions for each partner by the host country
*Certificate of Attendance including the"Workshop Modules" for each participant attending the mobility prepared by the host country so that it will enhance the progress of our (FRW)
6)Plan to develop by partners as per objectives
7)Interim Report(IR) completion
8)Finalizing & sending (IR)&Final Report to NAs in cooperation with all project partners
9)Updated Project Lifecycle Plan for 2014-15
10)Online video Presentation of final video product contribution to be included in(OVAC) by the partners
11)Exhibition of CD (OVAC)
12)Plan,Updating & promoting Products
13)(DF) Finalization Workshop combining 4 (SAV)s
14)Plan for Final Presentation ( Deadline for venue selection = Dec 15 2013 )
15)Distrubution of Tasks Schedule for the (FRW) in TR?
16)Realizing Prison Show & (FRW)
17)Renewal of (PNAF) along with (PA) TBA?
18)Promotion of contacts with local institutions&media
19)Maintenance of permanent communication among partners
20)Evaluation&dissemination of project activities & their impact
21)Detecting the no of adults presenting our catchphrase
22)Cooperation with volunteers.
F2 Cooperation and communication
The following cooperation & communication cycle will be provided among the institutions using common project language English:
-Regular project work cooperation will be shared homogeneously among the relevant partners according to the pathway as stated in both part F.1. DISTRIBUTION OF TASKS&part C.X.4.DESCRIPTION OF PARTNER NO.X
-Regular correspondence among the institutions consisting of invitation letters or required documents for the following meeting
-Project meetings containing workshops & conference calls (especially for the ones who is absent during the meeting may  be acquainted of the workshops by this way) (A conference call had been realized with representatives from BG, and PL during the (pv) in Turkey on skype)
-Newsletters and wallnewspapers prepared by each host country before/after each meeting will be circulated via photos or web-page links of their own institution among the whole partners (a wall newspaper has already been created by the coordinator organisation's adult learners before the (pv))
-Technologic equipment such as mobile phones, iphones,ipads and faxes will be useful for the efficient progress of the non-stop communication among the partners
-ICT skills & transfer of innovative practices will be enhanced among the partners such as e-mail chain, facebook , institutions' own web pages and (E-LWP)
A sample section from the email-chain among the whole partners as an evidence and guarantee of non-stop communication showing that all partners have already been actively involved in the implementation and evaluation of project activities:
 "From: Maltepe Kız Teknik ve Meslek Lisessi (n2l8@hotmail.com)
Sent: Wednesday, January 11, 2012 11:07:08 AM
To: multikultura@wp.pl; info@sommercamp.at; yana2712@gmail.com; markkonick@gmail.com; sinelynch@yahoo.com; iovinorosangela@gmail.com; desmosgr@gmail.com; gky2001@hotmail.com
Dear partners from Austria,Bulgaria and Poland,
You know we (as representatives of Turkey, Ireland, France and Italy) are now making workshops in order to fullfill our application form.And we would be very happy if u can be online with skype or msn so that we can finalize the details our proposed project. Timing for online connection is between 15:00 and 16:00 (Turkey timing) today (11.01.2012).
Kind regards
Maltepe Kız Teknik ve Meslek Lisesi
"N2L8" Grundtvig Learning Partnerships
Draft Project Management Team
on behalf of Headmistress
Hatice Dürdane Ekmekçibaşı
Yalı M. Rıhtım Cad. No:27 Maltepe/ İSTANBUL"
F3  Participants involvement
Each project team members of the partner institutions (both relevant pupil/learner/trainee and staff) will cooperate both among themselves and the whole partners as follows:
During planning
-Panning a pathway in order to reach as many European adults (within the context of vulnerable social groups & in marginal social contexts, in particular older people & those who have left education without basic qualifications) while creating the project's relevant products as a result of the pre-planned pedagogical & didactic approach
-Feasibility meetings for the whole project lifecycle both at the beginning of the project's approval and before each meeting
-Preperation of the required documents before hosting project partners at their institutions for project meetings
-Planning a work task for creating the required project products (such as E-Learning Web Platform(E-LWP),Multilingual Users Guide(MUG),(E-LWP) Questionnaires (E-LWPQ)s,Online Visual Artistic Catalogue(OVAC),Multilingual Pocket Illustrated Glossary of Artistic Terminology(IMPIGAT),Documentary Film (DF) (consisting of 11 different Short Audio-Video(SAV)s) created by the adults)
-Research for the cultural, historical, geographical, physical, traditional and European life styles of each partner in order to enhance the European face and lingual skills especially in English
-Keeping in touch via the stated cooperation and communication cycle in part F.1. from the beginning to the end of the project lifecycle
-Pre plan pathway for the innovation of the relevant project's pedagogical or management issues for producing the relevant project outcomes
-Brainstorm for the the schedule & the exact curriculum of the 3 quarters in order to arrange them according to the academic calendar and available facilities of the partner institutions
During Implementation
-Consistent contribution & cooperation while performing the products (stated in D.4. ), the tasks (stated in part F.1.) and the work programme (stated in G.2.)
-Cooperation with volunteers (if available)
During evaluation
-Taking active role while evaluating the project meetings and annual workshops via minutes, midterm, final and other promised reports as stated in part "D.4.Results and Outcomes"
-Being able to discover "all adults may have a second chance education if they desire it by heart" by the help of evaluating their self-performance after the project lifecycle
F4 Integration into outgoing activities
The project will be integrated into both the learning activities of the participating learner in each of the participating organisations & the ongoing activities of the participating organisations following the steps below:
1)Enhancement of basic foreign language (especially English) learning alongside the running of adult education curricula as a tool for realizing the main pedagogical and management issues of the project,
2)Usage of the N2L84ES products as a reference for the adult learners (including the large number of adults who have left school early or who have never had the opportunity to receive a school education (as in the case of many migrants, refugees, disabled or poor individuals) and are "seniors or ageing population") running curricula,
3)Integration of artistic, lingual and digital ICT project issues into Foreign Lanuage,Arts, Graphics & Design, Handicrafts, Music, ICT departments of the relevant institutions providing a common meeting platform for the adult and teenager members of partners,
4)Implementation of e-learning (will ensure all partners can avail of online learning in their home countries),
5)Running online courses in conjunction with each organisations' own schedule,
6)Using digital,artistic & linguistic skills in each organisation to achieve project objectives,
7)Develop learners' existing skills by using new ICT based pedagogical methods such as (E-LWP),(MUG),(E-LWPQ)s,(OVAC),(MPIGAT),(DF) (consisting of 11 (SAV)s),
8)Creation of project products cooperating with the relevant European staff (will ensure future European adult learners benefit from this project),
9)Using different technology and artistic methods (will ensure learning is open to all target group),
10)Making the adult learners of the project partner institutions actively involved through each step of the project lifecycle inserting the project activities alongside the regular running curricila of partners,
11)Implementation of project activities throughout the "European Union Club" activities of the relevant coordinator high school (will enhance the cooperation among adults and teenagers/children),
12)Involvement of the innovative pedagogical and management issues of the project through the regular running adult education curricula of the partner institutions.
F5 Evaluation
Following evaluation steps will be followed covering the aspects such as follow-up of progress made and partnership performance,satisfaction of participants and other target groups out of the institution adult members (such as prisoners), attainment of objectives, measurement of the relevant impact and European added value
During the Project:
1st step:The host organisation will assemble minutes and actions to be performed by partners before each meeting.  This will ensure even distribution of tasks and that they are completed within a certain timeframe.
2nd step will be consisted of:
-Evaluation of questionnaires for (E-LWP),
-Evaluation Report of the analysis on results from (E-LWPQ)s (modify and improve as appropriate),
-Interim evaluation report (will enable partners to assess project to date and ensure they are achieving their objectives and tasks),
-2nd Evaluation Report of the analysis on results from (E-LWPQ)s (modify and improve as appropriate),
-Product Progress Report (PPR) prepared by bilateral cooperation of Bulgaria and Italy,
-Final (PPR) showing the progress on e-learning courses,(OVAC),(MPIGAT),(DF) (consisting of 11 (SAV)s),
*Evaluation Report for Prison Show including the Feedback of Project Products,
*Local Coverage Report about Final Dissemination,
-Final report for NA (A final evaluation of the project will be completed at the final meeting comparing minutes from meetings, objectives and task completion & certificates with workshop modules),
-Feedback through Facebook, blogs and website on project products.
After the Project Completion:
3rd step:
-Evaluation of the performance of the products (such as (E-LWP),(MUG),(E-LWPQ)s,(OVAC),(MPIGAT),(DF) (consisting of 11 (SAV)s) will showcase the work produced as the products record of the work over two years).
4th step: 
-Evaluation of the potential development of project products (may be used by future learners and teachers to facilitate lifelong learning for a Transfer of Innovation (TOI) project).
5th step
-Evaluation report observing the feedbacks of N2L84ES products from the target pilot prisoners in Poland as a future guide for all European instutions volunteering to work with adults in prison throughout the potential future Grundtvig partnership project proposals (the number of the adults who will present our catch phrase "N2L84ES!" will be detected  as one of the performance criteria of our project).
F6 Dissemination and use of results
All the partners will disseminate and use the results, experiences and, where applicable, products of the partnership with
 a)wall papers, the newspapers, internet web pages of the relevant partner institutions.(We have already disseminated our Preparatory Visit at the following links:
  1)http://maltepekml.k12.tr/IcerikDetay/235/Maltepe-Kiz-Teknik-ve-Meslek-Lisesi-AB-Projeler-Kulubu-2011-2012-Aktiviteleri.   aspx
  2)http://www.anadolugazetesi.com.tr/haber/220-maltepe-kiz-meslekten-yeni-bir-ab-projesi
  3)http://www.okullarinsesi.com/news_detail.php?id=3534
  4)http://www.facebook.com/photo.php?fbid=167921846647288&set=a.110597662379707.12755.100002884228109&type=1&theater
  5)http://maltepekml.k12.tr/IcerikDetay/241/Basinda-Biz.aspx)
 b)Invitations of Local Authorities and communities to the Project meetings (Head of Maltepe Town Education Center (Mr Faik Kaptan) has already been invited to our Preparatory Visit whose photo may be seen from the above links in a)),
 c)Dissemination of created draft project products in Greece Meeting,
 d)Final Show in prison,
 e)Using the power of media,
 f)Developing an online European network among the Project News Links directing each one to other links.
As a result dissemination and usage of the results, experiences and, where applicable, products of the partnership wil have been realized in the participating organisations, in the local communities and in the wider lifelong learning community.
G2 Work programme
<![if !vml]>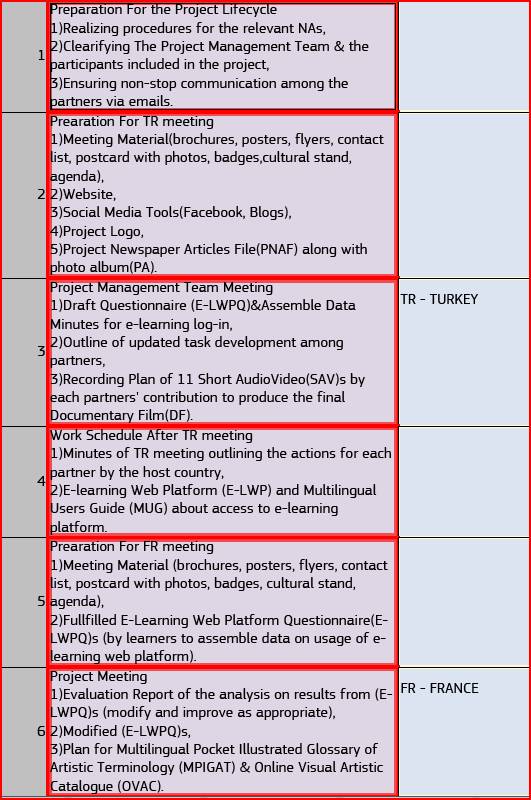 <![endif]>
<![if !vml]>

<![endif]>
<![if !vml]>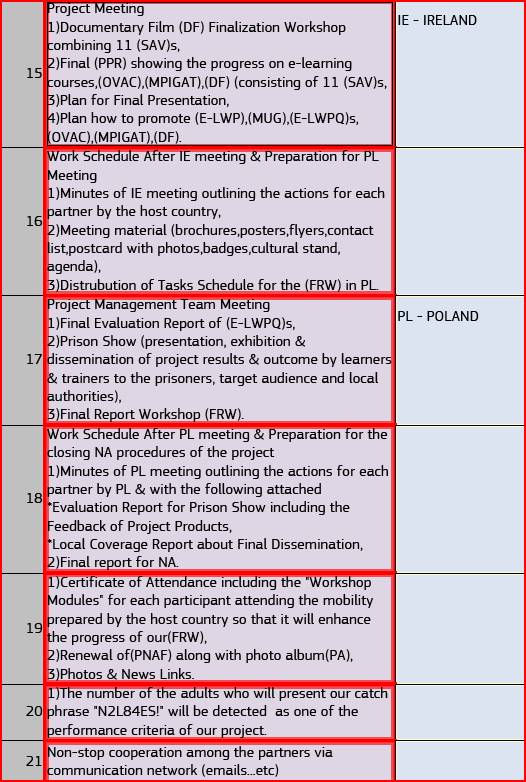 <![endif]><![if !vml]>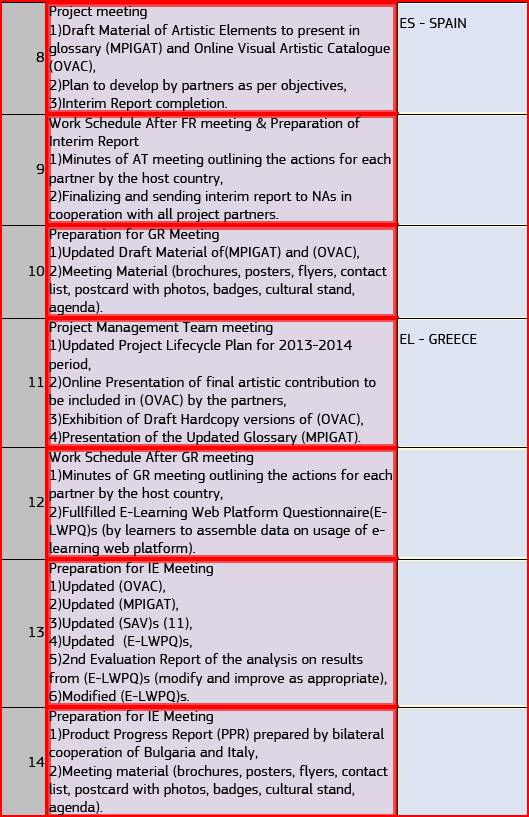 <![endif]>