OUTDOOR ICT Grundtvig Project
2011 -2013
PARTNERS
Università LiberEtà del Fvg - ITALY
Aula de Mayores de la Universidad de Málaga - SPAIN
Die Kärntner Volkshochschulen - AUSTRIA
Cultural Institute of Évora - PORTUGAL
INSTITUT E-SENIORS FRANCE
EdirneTurizm ve Otelcilik Meslek Lisesi Okul Aile Birligi - TURKEY
/ EDIRNE TOURISM AND HOSPITALITY VOCATIONAL HIGH SCHOLL & PARENT UNION
D.1. SUMMARY
Within the framework of its i2010 initiative the European Commission communicated its "Action Plan on  Information and Communications Technology for Ageing" with the subtitle of "Ageing well in the Information Society". In this document the Commission expresses its belief that ICT can provide enormous support to older people to stay active for longer in various fields of life: at work, in the home and in the wider community. Among the reasons why already existing ICT tools and applications are prevented from  effective use in this group is stated to be low awareness of the opportunities and insufficient sharing of experiences.
The project Outdoor ICT aims to face these challenges and offer pathways to explore and use expertise and knowledge of project partners in the field of adult education, health care promotion and ICT and unify these pools of knowledge by tailoring them to the needs of people over 45. The main objectives of the project are 1, to explore needs of the target group 2, to offer people45+ opportunities to explore new ways of acquiring knowledge  on ICT 3, to make pathways to apply knowledge gained via ICT in the field of active lifestyle 4, to combat intergenerational gaps 5, to share experiences of partners and participants
The piloting activity which will offer a package of objectives 2-5 is built around the idea of geocaching. Through geocaching  the partnership attempts to carry out a vast program promoting education and awareness about important sights from an environmental or historical/patrimonial point of view in each of the participating countries. The learners involved would get to know not only important sights in their own country, but also in other countries belonging to this partnership by sharing teaching materials and experiences.
D.3. PROJECT OBJECTIVES AND STRATEGY
In general, the main objective of the project is to provide opportunities for exploring ways of applying knowledge gained in the field of ICT to the promotion of active lifestyle by gaining and sharing knowledge and experiences of partners and participants and empowering people over45.
Concrete objectives of the partnership are:
1, Investigating the needs of adult users 45+
2, Exploring ways to combine knowledge and expertise gained in the fields of health promotion, ICT and adult education
3, Sharing knowledge and expertise of project partners
4, Giving opportunities for people 45+ to explore new, entertaining but also useful ways of learning ICT (main topic: geocaching)
5, building up or empowering communities which -besides traditional ways of keeping contacts- are maintained by online social networks
6, overbridging intergenerational gaps
7, disseminating project results
8, evaluating main project activities and adopt necessary changes
The main questions the project is seeking answers to are: 1, What are the barriers of people 45+ to use ICT tools and applications extensively?    2, Can informal and entertaining ways of teaching ICT be a high motivatonal force for older people?   3, Can online social networking systems support social integration of the target group? 4, Can intergenerational gaps be diminished by applying new approaches?
To achieve these objectives the partnership will use the following approaches:
The project will highly rely on the expertise pooled in the participating organizations. By sharing experience, knowledge and best practises partners will gain new perspectives in the relevant topics, increase their potentials in collaborating with each other. The project will rely on experiences gained in previous or ongoing European Union projects including Time-well (IBB), E-com45+ (Malaga), Mindwellness (Trebag),"A sense of Place: presenting your locality" (Libereta). These projects will be presented in workshops embedded in the meeting schedules.
Investigations by quantitative and qualitative methods alongside the above mentioned questions.
Drawing conclusions on SOTA analyses and applying this in further activities.
Developing ICT related outdoor activities with the main objective to promote healthy lifestyle (the recommended activity that each partner might undertake is geocaching)
Moreover, each partner will be responsible to implement local activities and also to contribute to the common outputs of the project. 
Meetings
Kickoff in Udine
Second meeting in Paris April 2012
Openstreetmap of the Marais
Information about the spots visited in the Marais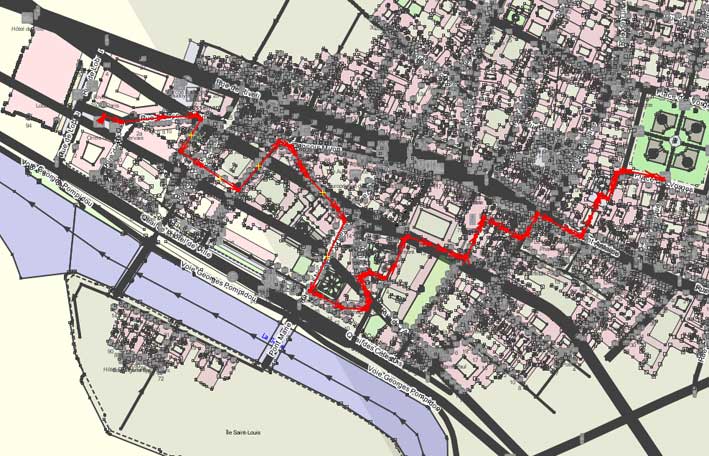 3rd meeting in Edirne (Turkey)
4th meeting in Malaga
5th meeting in Portugal (februar 2013)
A walk trough the historical center of Paris.
Meeting in Villach (Austria June 2013)
D.4. RESULTS AND OUTCOMES
ACTIVITIES made by Inst E-SENIORS
| | |
| --- | --- |
| 12/2011 | project logo |
| 12/2011 | recommendations on capitalization of results and experiences of previous projects (Time-well, Mindwellness, Kifli, E-com45+, Sense of place etc.) |
| 03/2012 | developing and introducing to the project  the web2.0 page (eg. facebook) |
| 04/2012 | Project website |
| 05/2012 | finalization of short ICT trainings- giving project certificate to participants |
| 06/2012 | final version of leaflet in English |
| 06/2012 | Mid-term evaluation summary |
| 05/2012 | finalization of national investigations |
| 07/2012 | finalization of SOTA analysis (summary of national investigations) |
| 06/2012-06/2013 | Organizing ICT related outdoor activities (recommended activities are geocaching, but partners are encouraged to implement and try other ICT related outdoor activities too) |
| 06/2013 | summary of disseminating activities |
| 06/2013 | plans for valorisation activities (further contribution, exploitation of results) |
| 06/2013 | final evaluation summary |
| 06/2013 | finalizing the GUIDE (which is elaborated jointly by project participants alongside contents including eg. summary of SOTA, lessons learnt from previous projects, recommendations for ICT related outdoor activities, reflections on project by users,etc |
G.2. WORK PROGRAMME
Description of mobilities and other activities

Destination country

Approx. Start date

Kick off meeting. Defining further steps, presenting draft ideas for logo, website, deciding about the leaflet, sharing experience on experiences and expertise gained in previous projects. (see section F1) Brainstorming, Study visits

HUNGARY

10/2011

2nd TN meeting. Presenting results achieved, facebook page, draft leaflet, draft website. Presenting first results of national investigations.

Study visits

GERMANY

03/2012

3rd TN meeting. Partners present their experiences gained at the course, final SOTA presented and discussed, ICT related outdoor activities are organized with the involvement of target group. Study visits.

TURKEY

06/2012

4th TN meeting. Presenting project activities fullfilled, discussing further steps, outdoor activities. Deciding about content of the Guide. Study visits

SPAIN

09/2012

5th TN meeting. Presenting activities, presenting the fullfilled tasks in developing the guide. Dissemination report of all partners. Outdoor activities, study visits

AUSTRIA

02/2013

6th TN meeting. Finalization of results. Dissemination, valorization activities, further cooperation. Outdoor activities, study visits.

ITALY

06/2013