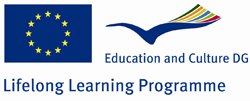 Project YODUL
Monday, 19th of November
13,30: Meeting at Hostal La Buelta.
14,00: Lunch in Atocha neighbourhood.
16,30-20,00: Downtown Madrid tour (Bernabeu, Puerta del Sol, Plaza Mayor)
Tuesday, 20th of November
10,00: Leganés tour.
Visit of 2 churches (San Nicosia, San Salvador)
Visit of the open air sculptures museum of Leganes
14,00: Meeting with the Major of Leganés at the Town Hall.
The major was not able to meet us finally, but we met the vice-mayor. He told us about the functioning of the town hall, how the decisions are taken, by who... Some gifts have been offered to the national coordinators.
15,00: Lunch in our school (all teachers and students in the project).
We had lunch with some students of the school (from all ages) and teachers (from several fields: math, English, Spanish literature, physics, IT…)
16,30: Visit of our school Rosalía de Castro.
Visit of the school, classes (art, math, Spanish for immigrants, laboratory...)
Presentation of the Education adult centre Rosalia de Castro located in Leganes (South east Madrid, 11 kms from Madrid centre).
Presentation of Leganes: industrial and commercial town.
Programmes of the school:
Primary and secondary education
Primary education (level 1 = 2 years, level 2: 2 years)
Secondary education for adults (level 1 = 1 year, level 2 = 1 year)
Spanish for immigrants
Vocational Training Education
Workshops (art, literature…)
Computer-based courses
17,00: Working session on the project progress in the library (students and teachers).
While the consortium was working on the project, the learners had to work together on a brochure on 3 Spanish towns (Toledo, Leganes, Alcala) close to Madrid. The consortium visited the 3 towns (except Alcala for the French because they left Madrid earlier).
Project meeting:
What have been done?
Turkey: opened 5 classes for the project, reading English (16 students), computing (35 students), puppet making (workshop, 19 students), aerobic. 6 teachers take part in the project and 2 managers.
Products: questionnaires, brochure of Paris, courses for young and adults, press conference for local TV, reports, magazine presenting their education centre and talk about the project, poster present in their centre, digital magazine with pictures (in progress), meeting between adults and young = discussion about traditions, habits that young don't know about.
Spain: logo
France: webpage
What will we have to do next?
The partners have to send pictures, documents to Alp, then he'll send it to France in order to upload it on the website.
France needs to prepare a text about what Pace-2- (for the week of the 24th of November).
Creation of a Facebook group: students from Spain, France and Turkey can subscribe to it and then find people to talk with on Facebook.
France will create the Facebook group (students can tell us the topic of their conversation)
Students will create a brochure by using Facebook.
The brochure has to be prepared for April.
End of the meeting
Presentation by the learners of their brochures, they were 3 groups. The aim was to have different nationalities and ages in each group. They spoke about one of the 3 cities (Toledo, Alcala or Leganes) according to their group in English.
Wednesday, 21st of November
Visit of Toledo
Departure