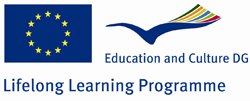 Project YODUL
YODUL
PARIS, 9th of May 2012
Present :
TURKEY :
- Alp Çetindemir
- Mehmet Ayaktas
- Emine Güney
- Dicle Çetindemir
- Fazli Güleç
- Orhun Gülersönmez
SPAIN :
- Beatriz Hidalgo Velasco
- Jorge Ortiz de Urbina Saenz de la Camara
- José Heredia Menchero
- Luisa Hernandez Bernalte
- Maria Garcia Sanchez
- Sofia Baelo Cabanillas
- Borja Fernandez Bauza
- Christina Janet Delgado
- Conchi Garcia Sanchez
- Laura Millan Huerta
FRANCE :
- Philippe Uziel
- Jean-Michel Damianthe
- Monique Epstein
- Annabelle Holl
- Mark Konik
- Betty Abugheida
In the morning :
Arrival at the Butte-aux-Pinsons residence at Bagnolet.
Presentation by Philippe of the intergenerational telementoring Pace-2-Face programme with Dr. Marie-Madeleine Bernard.
The participants talked with her via the videoconference and also the chat of the program, first the students and then the teachers.
Mrs Monique Epstein, president of the E-Seniors association, joined the group in order to give the certificates to each of the participants.
At midday, everybody moved to the animation centre for seniors Paul Coudert, supported by the municipality of Bagnolet. Brahim Maza, the centre manager, made a presentation of the centre: What is it? What kind of activities do they offer? What is the aim? What kind of projects do they carry out?
The participants had then a discussion on the Yodul project pamphlet. Thanks to our two native English speakers, Betty and Mark, we corrected the mistakes found in the pamphlet and modify it thanks to Microsoft Publisher.
The logo has been chosen.